Wingcopter announces a host of global partnerships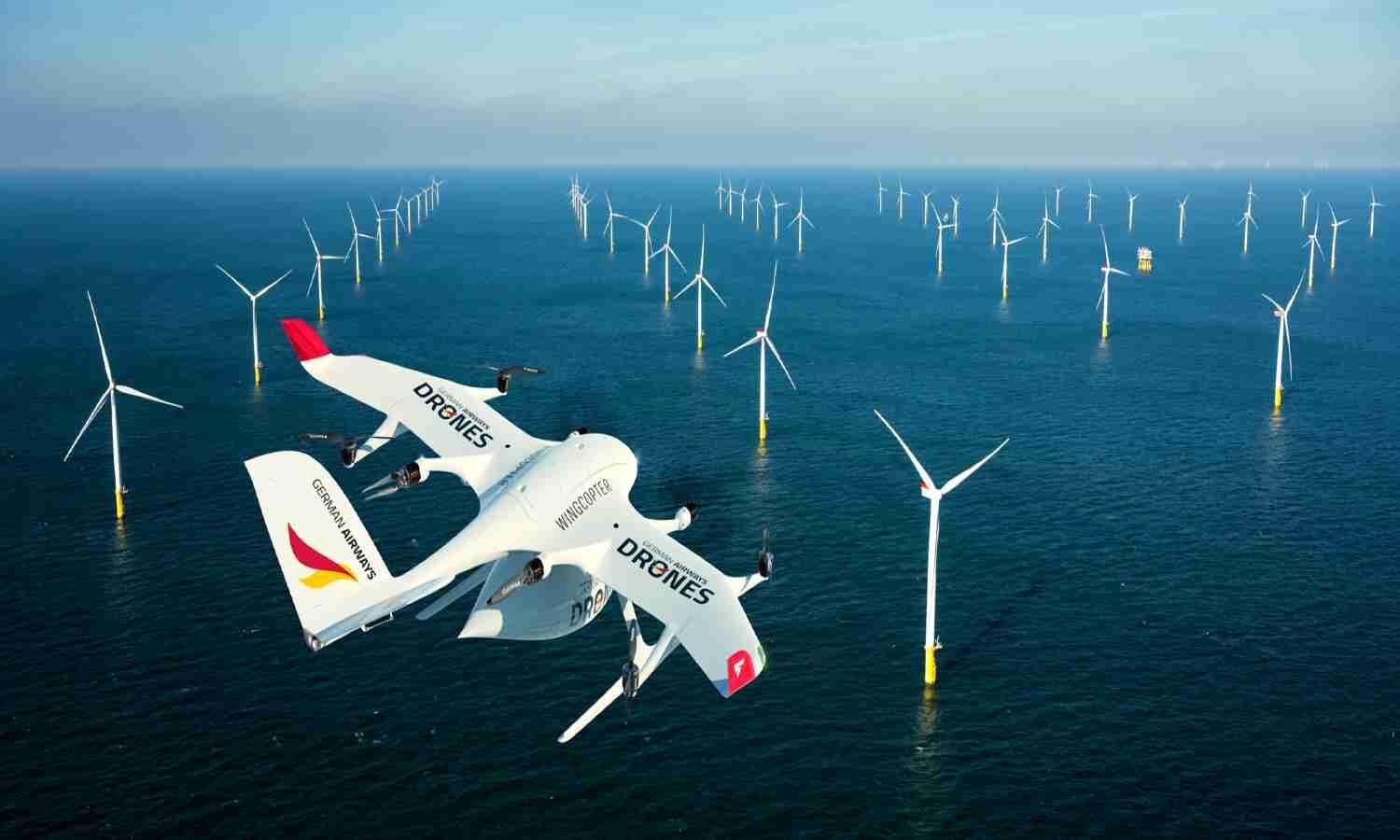 Wingcopter announced on Wednesday that Zeitfracht Group, a German logistics and aviation company, and its subsidiary German Airways will be among the first companies in the world to commercially use drones in logistics.
The companies have committed to purchasing 17 Wingcopter 198 delivery drones and securing options to order an additional 115 drones in two tranches by the end of 2023 under a joint agreement of intent with German manufacturer Wingcopter. The planes will start flying in the second half of 2024, departing from the coast, delivering replacement components to wind farms and taking off from Rostock airport.
Wolfram Simon-Schröter, CEO of Zeitfracht, said: "At the Zeitfracht Group, we are very creative and always interested in using new technologies in a market-leading way. We believe that the time is now right for the commercial use of drones, for example for the delivery of spare parts to offshore wind farms. With German Airways, our airport in Rostock and the experience of our shipping company OPUS in the deep sea delivery operations, with Wingcopter we have the ideal conditions to advance this technology forward."
German Airways already meets the basic requirements to operate Wingcopter's delivery drones in the "Special Category" and eventually the "Certified Category" as it holds an Air Operator Certificate (AOC).
"With the planned resupply flights for ships and offshore wind farms, we will be tapping into a new and growing area of ​​application for which the Wingcopter 198 is ideally suited thanks to its high performance even in extreme weather conditions. Moreover, the test site and the close cooperation offer the possibility to develop other promising business areas together," said Tom Plümmer, co-founder and CEO of Wingcopter.
A Japanese entity joins the Wingcopter program
On Tuesday, Wingcopter signed a strategic collaboration with ITOCHU Corporation. ITOCHU has joined the Wingcopter Authorized Partner Program (WAPP) as a specialist distributor and lessor in Japan for the Wingcopter 198 – the company's latest eVTOL delivery drone. Apart from this, the Japanese company has also chosen to invest strategically in Wingcopter.
ITOCHU is one of Japan's leading general trade companies – colloquially known as "sogo shosha" – with 125,000 workers worldwide and an annual trading revenue of $93 billion.
Takanori Morita, Managing Director of ITOCHU and CEO of ITOCHU Europe PLC, said: "Drone delivery has the potential to revolutionize the way we transport goods and can immediately improve the quality of life for people around the world. . We believe that Wingcopter is uniquely positioned to become the market leader in this field with its superb product as well as a skilled and dedicated team.Since our inception in 1858, Itochu's corporate mission has been the spirit of 'Sampo-Yoshi', which translates to 'good for seller, buyer and society'. Wingcopter's business embodies this spirit."
Considering Japan's innovative attitude in integrating drones into daily life, cooperation with ITOCHU will help Wingcopter expand in Japan, which will be one of the most important markets for drone delivery to the world. 'coming.
About the development, Plümmer said that they expect Japan to become one of the most important regions for drone delivery applications in the coming years. "We are therefore confident that ITOCHU, with the network and expertise in a wide variety of business sectors as well as the financial strength of a Fortune Global 500 company, will help us serve more Japanese customers and enable us to jointly expand Wingcopter operations across Japan."
Wingcopter is looking to onboard new partners, based on an increasing number of partnership requests, to continue to expand Wingcopter's global reach.