Mitsui & Co is exposed to commodities and cyclical (OTCMKTS:MITSF)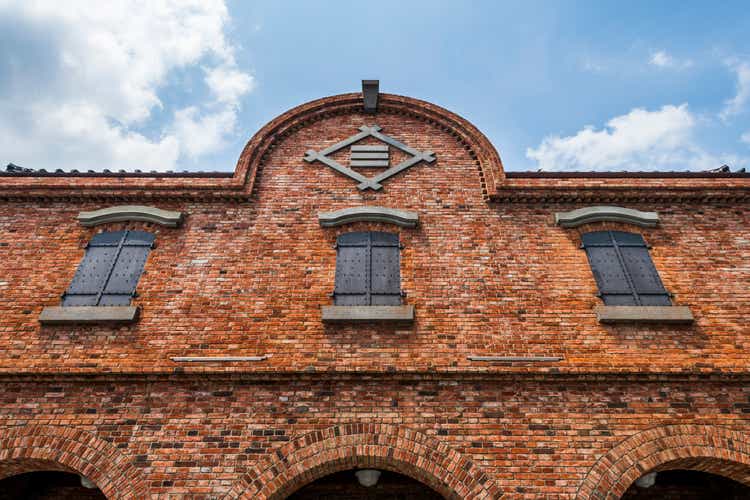 Published on the Value Lab on 09/10/22
Mitsui & Co (OTCPK: MITSY) is a pretty interesting Japanese conglomerate that takes positions in many other companies, mainly in hard asset companies like materials and energy, which gives them a a little cyclicality. This is actually a Warren Buffett action, with Berkshire (BRK.A)(BRK.B) invested in it about a year ago. They have some profit fluidity through vertical integration in their various segments, but cyclicality is simply present in most of their businesses. Overall, the company is not expensive on a P/B basis, despite its attractive assets in the current environment, and its PE ratio seems fair, but there are cheaper Japanese companies. Nevertheless, compared to its full American energy counterparts, Mitsui presents some value.
1st Quarter Comments
Mitsui is a Sogo Shosha, essentially a quintessential Japanese general trading company with a business model where it does a lot of projects, does a lot of distribution, and acts as a middleman for a lot of processes. These are its segments and their breakdown as measured by core operating cash flow, which is essentially cash flow from operations excluding the effects of working capital.
Let's quickly review the segments based on what they do:
Mineral and Metal Resources – Holding mining interests, recycling operations and trading in metallurgical coal, iron ore, copper and nickel.
Energy – Upstream oil and gas investments, LNG assets, nascent investments in logistics and next-generation fuel infrastructure.
Machinery and Infrastructure – Power generation assets, other infrastructure, automotive construction machinery with significant US markets, aircraft leasing and purchase, transportation assets, logistics and vessels.
Chemicals – Basic chemicals, monomers and performance coatings + functional materials, biomaterials and forestry, fungicide, fertilizer, seed trading. Basically a fairly commoditized portfolio of chemicals with more specialized agriculture-related stuff.
Steel Products – More downstream segment of steel products processing, steel parts production, steel production, wind tower manufacturing and electrical maintenance business.
Lifestyle – Owned by healthcare providers in Asia, pharmaceutical distribution, diagnostics companies, grain trading, feed and food production, and import/export businesses.
Innovation and Corporate Development – Digital solutions, CRM, logistics technology as well as real estate portfolio management operations.
Commodity-related activities are doing quite well in the first quarter. Iron ore exposure in minerals and resources is a headwind and has limited growth, while energy-related commodities like coal, power, oil and gas have been tailwinds for mining, energy and infra activities respectively. The machinery business is also supported by the continued strength in the automotive machinery supply, but we do not believe in the resilience of this market. In general, the machinery and infrastructure sector is affected by a declining CAPEX cycle.
Chemicals was strong thanks to the tight market for fertilizers and agrochemicals following the invasion of Ukraine. Likewise, grain trading operations within the lifestyle segment are doing well. Steel products have very thin margins due to weak recycling results, although these have improved since the stock market crash of 2016, and generally tight steel production margins. Parts production should do well.
Lifestyle is perhaps the most interesting segment from a secular perspective, as although it has some exposure to commodities, it also has other, more stable exposures to health care in Asia. These are likely contributing to growth, but the majority comes from grain volatility. Innovation and business development are rather irrelevant, and the pressure on real estate will likely make this segment even more irrelevant in the mix going forward.
Our judgment is that around 85% of the activity is cyclical and exposed to commodities, while the rest is in more secular markets. In general, your view on energy prices in general should dictate your view on Mitsui.
Remarks
Most of its interests are fully consolidated, and there is approximately $1 billion of company stock held to offset the net financial position. The multiple sits just above 10x EV/EBITDA, but the PE is around 7x due to fairly low net costs below the line.
As you can see from the segments, while all have some production equity and more asset-heavy activities, there is still an element of commerce and supply that Mitsui will engage in between businesses or at the within the commercial vertical. In general, the full businesses are reducing their exposure to commodities-related businesses, but many of their businesses remain highly cyclical, as reported by around 85%. The delta of this segment will mainly depend on energy prices. In our view, energy prices should hold up well. Demand concerns caused speculators to cut oil prices a bit, but OPEC supply cuts and general supply rationality quickly followed to support prices. This pattern is likely to continue and as a result, Mitsui is an oil game.
Multiples are in line with upstream oil and gas peers. Mitsui is a little smoother than them in our opinion, and will have less volatile results. Compared to the full lineup of oil and gas players in the US at least, they're a bit understated, but by no means extraordinarily undervalued. It's a quality company, and Japanese markets are likely to remain less properly analyzed than US markets, so there's probably some value here. The yield isn't bad either at 4%. Solid company.