Kishida puts Japan's trade interests at the forefront of climate policy – The Diplomat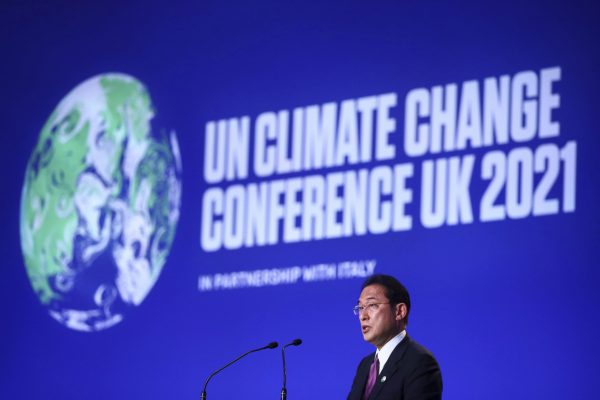 [ad_1]
An expert on Japanese politics uttered a memorable phrase when I asked him why Kishida Fumio recently became the country's prime minister.
"People who don't bow are not appreciated as leaders," said Keiko Iizuka, political writer at Yomiuri Shimbun and senior commentator for the nightly news program News in Depth (Shinso News).
Kishida, she explained, took her curtsey seriously, bowing her head in front of influential politicians and organizational leaders. He told them that if they supported his candidacy for high office, he would become their humble servant.
According to Iizuka, it was Kishida's meeting with the president of the Keidanren – the powerful Confederation of Japanese Affairs – which ensures him the leadership of the Liberal Democratic Party, in preference to other more charismatic candidates.
The group of companies, currently chaired by Tokura Masakazu of Sumitomo, agrees that Kishida's policies based on the concept of a "new capitalism" are in line with their own approach.
Having been selected for the top position in the LDP, Kishida led the party to the election on October 31. The LDP won enough votes to maintain an overall majority in the lower house of the Japanese Diet.
As soon as the election results were confirmed – and before he appointed a new foreign minister – Kishida flew to Glasgow in Scotland, to participate in the most intense diplomatic event of the year : the United Nations COP26 conference on climate change.
This gave him the opportunity for a brief face-to-face meeting with US President Joe Biden, as well as a platform to salute Japan's role in the fight against global warming, particularly in Asia.
The prime minister spoke of the technological skills of Japanese companies in developing systems to switch from existing thermal energy sources to zero-emission renewable energies.
He pointed out that the government seeks to act in harmony with big business and sogo shosha trading houses, such as Sumitomo, to develop green energy opportunities in the Asian region.
Kishida said the government would support "an innovative climate finance facility, in partnership with the Asian Development Bank and others to support the decarbonization of Asia and beyond."
He also said that Japan will fund projects worth $ 100 million under the Asia Energy Transition Initiative, using cleaner alternative fuels, such as ammonia and hydrogen.
However, Kishida was careful not to promise actions that the business lobby might consider too ambitious. Japanese CEOs are often impatient with prime ministers who interfere with company decisions and can act to undermine them politically.
Japan's longest-serving prime minister, Abe Shinzo, has been cautious about speaking out on climate change unless he has consulted with business leaders first.
Nonetheless, Kishida's immediate predecessor, Suga Yoshihide, announced an ambitious target when he was prime minister, promising that Japan would cut emissions in 2030 by 46% from 2013 levels, a 20% reduction from 2013 levels. the previous objective.
There has been a lot of debate about how this vision can be achieved. The government is currently working on a new energy strategy in close consultation with industry.
It is significant that at COP26 in Glasgow, Japan is not among the 46 countries that have pledged to phase out coal by the 2040s. At the last plenum of the conference, British President Alok Sharma , agreed to water down the final communique to include a commitment to "phase out" coal instead.
Japan, which gets about 30 percent of its electricity from coal, plans to reduce that figure to less than 20 percent by 2030, but has no timetable to abandon it altogether. This frustrates environmental activists, but progress has been hampered by the difficulty of restarting nuclear reactors that shut down after the Fukushima disaster in 2011.
Likewise, Japanese automakers, such as Toyota, were not on the list of automakers who signed a statement in Glasgow to say they pledge to phase out production of fossil-fueled vehicles globally. 'by 2040.
This is surprising, given Japan's pioneering role in green transportation. However, the auto industry appears to assess technological developments and market trends before allowing the government to make commitments on its behalf.
The British government, which hosted COP26, hailed it as a diplomatic success, highlighting important agreements on emission reductions, many of which had the full support of Japan.
Japan has joined more than 100 countries that have pledged to stop deforestation by 2030. More than 68 percent – or about 24 million hectares – of Japan is forested and current deforestation rates are low, according to the Mongabay conservation information platform.
The Japanese delegation also agreed to abide by a program to cut methane emissions by 30% by 2030. Biden called methane "one of the most powerful greenhouse gases there is."
Kishida hopes he can arrange another meeting with Biden soon, where environmental issues will be discussed, as well as defense and security.
Japan's Foreign Ministry was determined that the newly elected prime minister would appear in person among world leaders in Glasgow, especially since Chinese leader Xi Jinping was not in attendance.
Biden used his press conference to criticize Xi's absence. "It's a huge problem and they just walked away," he said, adding, "How do you do that and claim to have a mantle of leadership?"
China says Xi chose not to travel to Glasgow because of concerns about COVID-19 and because he was chairing a major Chinese Communist Party plenum in Beijing.
Nonetheless, while COP26 was still underway, the United States and China announced a joint statement on tackling climate change, which included the approval of two agreements also signed by Japan: the reduction of emissions of methane and forest protection.
At the end of the conference, British Prime Minister Boris Johnson said he hoped COP26 "would mark the beginning of the end on climate change" and United States representative John Kerry suggested that the he inclusion of any commitment to coal was successful.
Kerry said: "We have always known Glasgow was not the finish line and anyone who thought it was does not understand the challenge we have."
Referring to the Paris Agreement's goal of limiting global temperature rise to less than 2 degrees Celsius above pre-industrial levels and trying to keep it at 1.5 Celsius, Kerry added: "Paris built the arena, Glasgow started the race, and tonight the start the shot was fired.
Shortly after returning to Tokyo from the COP26 conference, Kishida announced that he had chosen Hayashi Yoshimasa as Minister of Foreign Affairs.
Hayashi was previously the chairman of the Japan-China Friendship Parliamentary Group, which promotes good relations with Beijing. Upon his appointment as the country's chief envoy abroad, he resigned from this post.
Speaking to the press, Hayashi stressed that Japan will "exercise leadership" in tackling global issues such as climate change.
Hayashi also said he would firmly face difficult issues in relations with China, South Korea and other neighboring countries, while striving to establish stable relations.
Hayashi's rhetoric since his appointment has often referred to "a free and open Indo-Pacific". This diplomatic term corresponds to that of the State Department in Washington to describe the tense region of the world that contains Japan and China. There is also a similar tone in the diplomatic language of the United States and Japan on climate change.
Despite the compromise on coal at COP26, Kishida's government can nevertheless claim to have supported an ambitious pact to curb the rise in temperatures.
The final text of the conference communiqué calls on countries to come together again next year with firmer plans to reduce carbon emissions. This gives Kishida precious time to work more on Japan's energy strategy and ensure it receives industry approval.
[ad_2]