Historic 3-bomber Super Bowl flyby was a huge missed opportunity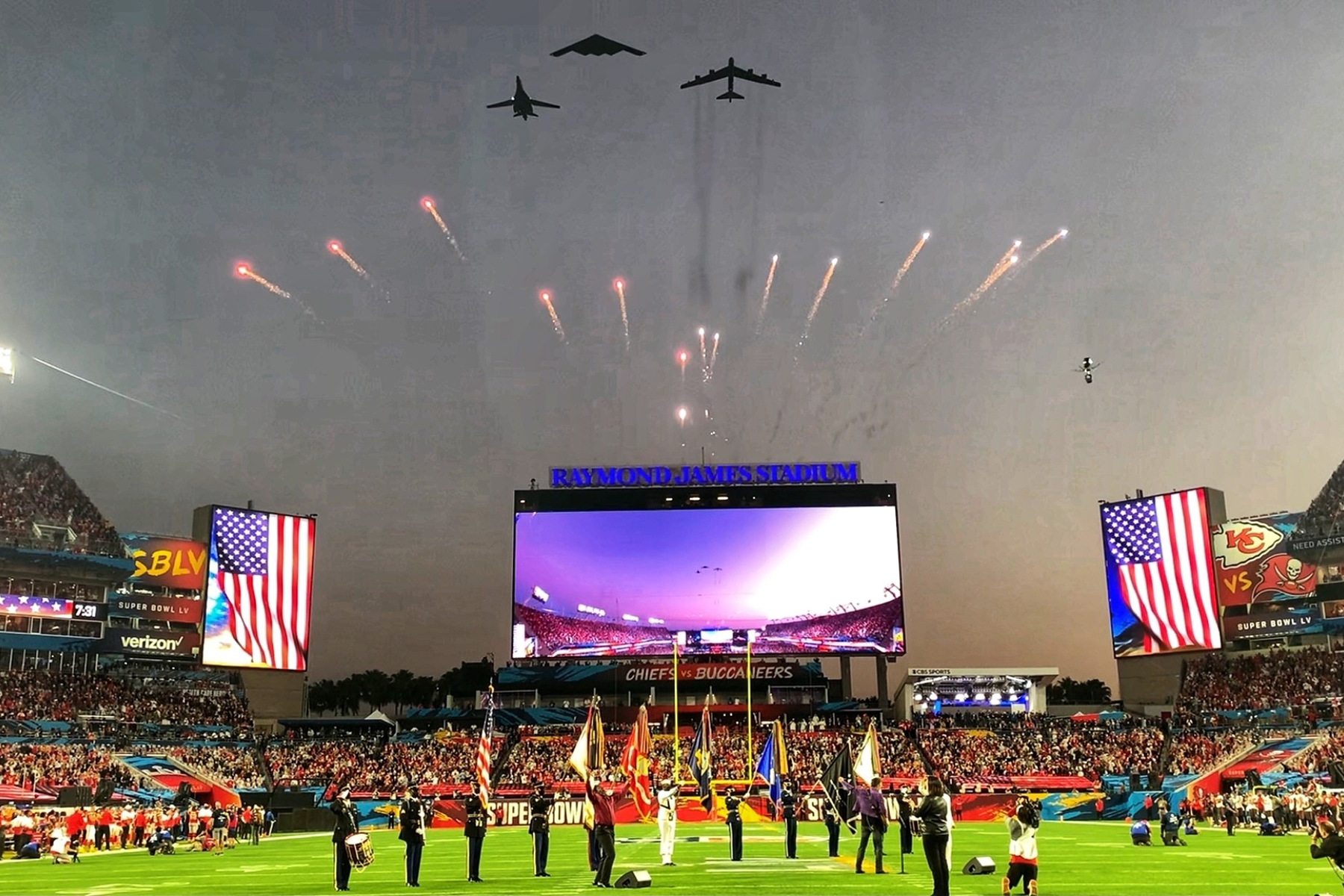 Retired Air Force Lt. Gen. Dana T. Atkins is President and CEO of the Military Officers Association of America. He served as a command pilot with over 4,000 hours in fighter jets. During his career he flew as a demonstration pilot for the European A-10 Demonstration Team and the US Air Force Thunderbirds. He retired from the Air Force as Commander, Alaskan Command, US Pacific Command; Commander of the 11th Air Force, Pacific Air Force; and Commander of the Alaska North American Defense Region.
It was an inspiring moment when music stars Eric Church and Jazmine Sullivan concluded their duo "The Star-Spangled Banner" with fireworks and a historical overview: a trio of B-2 Spirit, B-1B Lancer and the B-52H Stratofortress in formation. Their designations stood at 55 in honor of the 55th Super Bowl.
The bomber formation was a first for such an event and was led by Captain Sarah Kociuba, one of 10 female B-2 pilots.
This display of America's precision in defense was impressive, but you wouldn't know it from the comments and lack of on-air recognition.
Related: How the Air Force pulled off the very first Super Bowl flyby with the 3 bombers
CBS and the NFL have not given their due on the occasion. If you blinked, you might have missed it. What was also missed was the opportunity to shine a light on the planning and training to make these moments special to the American public and international communities enjoying the big game. There is also a significant recruiting opportunity to support the volunteer-only force.
The gap between military and civilians is only widening, and CBS has helped widen the gap by missing the moment. This follows a fall game where Fox commentators Joe Buck and Troy Aikman lamented the "cost of tax dollars" of overflights. These comments, who appeared in the leaked audio, were considered sarcasm.
The historic Super Bowl flyby could have been an opportunity to set the record straight. No shortage of information was suggested by the Aviation and reports from stations and local networks.
While the Air Force performs nearly 1,000 overflights per year, they are also crucial training for all Airmen and other services.
As a former commander of the armed forces and a former member of the Air Force Thunderbirds aerial demonstration team, I can attest that the demonstration flights are rigorous and demanding. While maintaining sharp skills, they also engage audiences and inspire others to serve.
If the networks and the NFL are going to treat these flyovers as just another form of pre-game entertainment, there is a significant missed opportunity to provide a catalyst for one of our country's sons or daughters to consider serving – all like Kociuba, who as a young girl was stunned at the sight of a B-2 bomber at the Rose Bowl Parade.
Finally, such coverage does not recognize or thank all who serve in our military for defending our country.
After the Super Bowl, I felt a bittersweet mixture of pride in our country and sadness over misperceptions of the role of the military. Our men and women who serve in the uniformed service, our veterans, their families and their survivors certainly deserve better.
– The opinions expressed in this editorial are those of the author and do not necessarily reflect the views of Military.com. If you would like to submit your own comment, please send your article to [email protected] for review.
View full article
© Copyright 2021 Military.com. All rights reserved. This material may not be published, broadcast, rewritten or redistributed.