Gordon Campbell: Fostering Kiwi Culture of Covid Complaint Media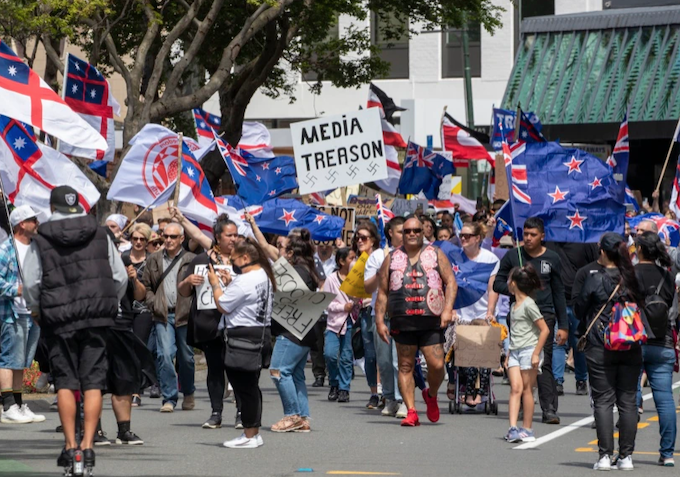 [ad_1]
TO ANALYSE: By Gordon Campbell in Wellington

Success can be his worst enemy. If the plane doesn't crash or the ship doesn't sink, that doesn't prove that safety measures were unnecessary or that anyone can fly a plane.
It can also be taken as an indication that the security measures are working. Ditto during a pandemic.
Arguably New Zealand has achieved the best response to covid worldwide. It didn't happen by accident. It reflects the competence and dedication of tens of thousands of people working at borders, in MIQ facilities and in the public health system. Hundreds are alive and well today who would not have been if the government had bowed to pressure from business and its friends in the media, and opened the borders prematurely.
Little of this reality has been reflected in a media account that has been skewed towards claims of confusion, mismanagement, chaotic disarray and hardship resulting from the government's treatment of public health as its top priority. Yes, it can be financially difficult (and stressful) for people whose business model was built on a pre-covid reality where foreign tourists and locals could mix and mingle freely.
We now have vaccines, but they don't even make double vaccines fully bulletproof.
Therefore, the need to be cautious in removing restrictions and safeguards remains, especially given what we know about the ease with which delta and omicron spread covid-19. Additionally, and throughout the pandemic, compassionate taxpayers have poured hundreds of millions of dollars into the hospitality and tourism industries. They did it (a) to keep businesses afloat and workers in jobs, while (b) these businesses have adapted to the new reality.
Some hospital and tourism companies have made this adjustment. However, many others have been given a media platform to repeatedly complain about their plight, as if the government (and taxpayers) have a duty to keep their old business model to themselves, forever.
Instead of providing a voice for grievances, shouldn't the media be more willing to challenge these employers to explain how they have dynamically changed their business practices and what their transition plans look like?
The last time I wrote about this, it was misinterpreted by some as an argument to turn the media into government apologists or publicists, and prevent journalists from heroically doing their jobs. To be clear on this point: there is not much heroic in amplifying complaints without context or repression.
Moreover, IMO, it is not particularly heroic to be willfully naive about the political dimensions of your work. Meaning: The risks of being an apologist and a virtual publicist don't just apply to government policies and actions. Particularly in the aftermath of the mid-year Delta epidemic, much of the media has been a virtual echo chamber for the attack lines launched by the opposition.
The deliberate lack of context has at times been mind-boggling. Outside of the business pages, recognition of the relative success of this country's economic management during the pandemic has been almost non-existent.
– Gordon Campbell
The deliberate lack of context has at times been mind-boggling. Outside of the business pages, recognition of the relative success of this country's economic management during the pandemic has been almost non-existent.
Last year New Zealand – and the rest of the world – expected the worst recession since the 1930s. In some countries, the covid-related recession has been deep and lasting. Here, not so much.
In fact, our Reserve Bank was recently forced to step in to dampen inflationary fires in a growing economy. While this may hurt the sentiments of the center-right, the results justified the borrowing and spending approach taken by the government in unison with the Reserve Bank.
Last month the government books were opened. People have jobs. Unemployment fell to 3.4% in the quarter through September, and continues to decline. Yes, prices are rising faster than wages, but this is largely due to supply chain bottlenecks and rising oil prices beyond our control.
It is also due to record global demand for our agricultural exports which – despite what the Groundswell protesters claim – has left farmers extremely well positioned to meet the costs of meeting their climate change obligations and water quality.
As this column has always maintained, the inflationary surge in prices is expected to peak in early 2022 and decline sharply thereafter. Despite the covid effect, the operating balance evidence shows that deficits will return to surplus in 2023/24, three years earlier than expected. Likewise, there will be a dramatic drop in net debt, which will peak at 40.1% of GDP next year, before dropping sharply to just 30.2% in five years, or 18 percentage points below expectations. grim debt predictions that were made at the start of the pandemic.
You might as well fear that covid-related spending will impose an intolerable debt burden on future generations. Instead, the borrowing has sustained (and generated) levels of economic activity that will largely cover the debt incurred to obtain subsequent social benefits. Another triumph of neo-Keynesianism over austerity policies.
Finally on this point, the Treasury forecasts that the public debt will drop from 35.3% of GDP to only 30.5% next year and that it will continue to decline during the forecast period. This means New Zealand is fortunate to have one of the lowest public debt-to-GDP ratios in the developed world.
Among other things, it leaves hectares of leeway for the government to borrow more to invest in infrastructure and social needs. There is also a great deal of leeway in the economy for an additional active response to the needs induced by the covid. Specifically, these numbers make center-right critiques of the government's economic policy almost completely irrelevant.
This is what I mean about a biased media narrative. In his horse racing journalism fixtures on the new leader of the National Party – whether or not he was the best Prime Minister Jacinda Ardern in the House etc. economic parameters. Despite all his vaunted experience as CEO, Christopher Luxon has so far delivered nothing at all through an alternative economic strategy.
All Luxon has offered (so far) are 40-year-old Thatcherite ideas about debt reduction, balancing the budget, and tinkering around unnecessary government spending. These policies are archaic relics of a bygone era.
There's a fixation on style – is it John Key Redux? – as if questioning Luxon closely on its lack of content would be in bad form and rather nasty for such a novice in politics.
– Gordon Campbell
There's a fixation on style – is it John Key Redux? – as if questioning Luxon closely on its lack of content would be in bad form and rather nasty for such a novice in politics.
In reality, it appears the center-right has slept through the global financial crisis, let alone the Covid recession. In both of these crises, the countries that fared the best, including the United States, borrowed and spent to get out of trouble. The countries (mainly in Europe) that did worse during the GFC in particular, had actively embraced the austerity policies, small government ideology, and service cuts that the current National Party leadership is allowed to peddle by one. docile media. .
There is so much more media interest (and clicks) in the Luxon vs Ardern popularity contest.
Footnote: In the United States in recent weeks, the same debate has arisen over the dominant media discourse on Biden's presidency. Again, the lack of context (e.g. in the coverage of the US exit from Afghanistan), the consistently negative emphasis on trivia (e.g. Biden's cough), and the reliance on horse journalism (e.g. example, Biden's approval ratings) all have their counterparts here. here is a Colombian journalism review article on media bias toward Biden.
Much of the recent debate was started by a (paid) column written by the from the Washington Post Dana Millbank, who argued that the US media's amplification of what are relatively trivial government failures serves to push the country forward to the far right. As Millbank says in this MSNBC interview:
"Compare the last four months to the last four months of 2020, when Donald Trump threatened not to honor the outcome of a free and fair election. He embraced the white supremacists of the Proud Boys and kissed QAnon. He was sabotaging the Post Office.[Yet] During that time, he got similar and even more favorable coverage to Biden's today.
In this situation, the ordinary combative instincts of the media – they originate in the admirable need of journalists to hold power to account – may be ill-suited to the recognition, let alone the management, of the situation as a whole. . Because, according to Millbank, the stakes in the United States are more than the usual political maneuvers of parties between Democrats and Republicans. According to him, the fight is between the small "d" democrats and the authoritarians.
As Milbank put it in his To post column, "Biden is trying to restore democratic standards. People who oppose him use fascist tools of deception and denial of the right to vote. Neutrality in this struggle is not a virtue.
Footnote two: Luxon CEO experience could be the worst possible preparation and qualification to lead a government. After all, CEOs are accountable only to shareholders, and their main loyalty is to the bottom line. Yet governments, if they are competent, must be willing and able to juggle competing interests, recognize the minority perspective and minimize risks to vulnerable people, even if this sometimes means giving up on the quest. optimum economic efficiency.
Overall, the current government has done a fairly good job of balancing it. Arguably, by focusing so much coverage on the angry disaffected, the media has taken an easy clickable route that downplays – or denies – the fact that these people are in fact outliers in what has been so far. , a successful response to the pandemic.
Gordon Campbell is a progressive freelance journalist and editor of Scoop's Werewolf Magazine. This article has been republished with permission of the author.
[ad_2]