CorEnergy Stock: My worst investment is still in trouble (NYSE: CORR)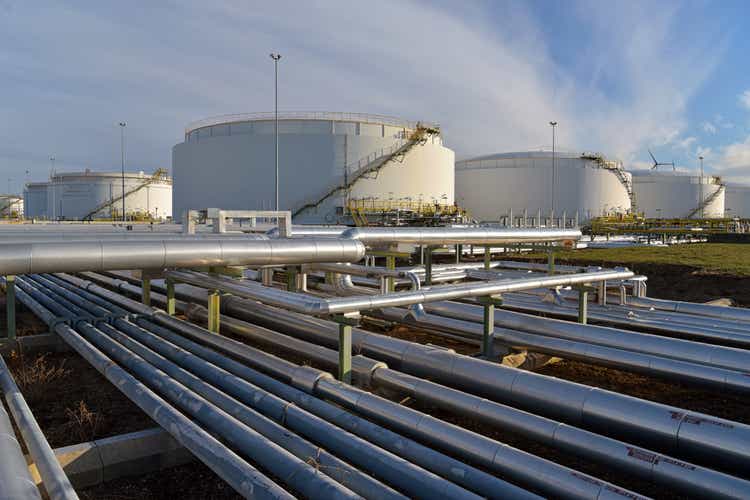 I first invested in CorEnergy (CORR) in early March 2019, almost exactly three years ago, when it was selling for around $36 per share and yielding 8%. I was proud of myself, having found a company that was growing FFO (Funds From Operations) and TCFO (Total Cash From Operations) at double digit rates while paying a hefty dividend, and took a position of nearly 6% of my portfolio.
At the time, I was a new REIT investor and didn't realize the game was against small cap REITs. CORR's market capitalization at the time was less than $0.5 billion. Nonetheless, it performed well for that first year, climbing to the mid-$40s.
Then came the COVID sell-off, and simultaneously a sharp drop in oil prices. Two of CORR's tenants, who together accounted for 78% of the company's revenue, both stopped paying rent and CORR was forced to sell assets at bargain prices. They cut the almost non-existent dividend, from $3.00 per share to $0.20, in April 2020.
I realized what was happening in time to sell my shares at just under $15 in mid-April of that year, for a loss of around 50% (when you add the 2019 dividends). CorEnergy was my worst investment ever.
I'm glad I got out when I did, as the fall continued, down to $2.95 per share, where it bottomed out in late December 2021. There are signs that the business is stabilizing, but it is still struggling.
Meet the company
CorEnergy is a small mid-market company, with a market capitalization of $50.9 million. The company owns only two pipelines. One (Crimson) transports crude oil from the Bakersfield, California area to Los Angeles and the San Francisco Bay Area. The other (Omega) carries natural gas from central Missouri to the St. Louis area.
More than 90% of the company's revenue in California comes from fee-based rates and long-term fixed-rate contracts with long-time customers. Oil comes from basins with low decline rates and feeds large centers of refining demand. In-state production covers only about 50% of California's crude oil demand and is the refinery's source of choice, with imported oil making up the difference. As COO John Grier said on the third quarter earnings call:
This is a captive market for in-state production serving the largest vehicle fleet in the United States.
CORR's primary source of competition in California is trucking.
For the Missouri Pipeline, approximately 95% of this revenue comes from long-term take-or-pay contracts, in which CORR is guaranteed a minimum revenue, even if the buyer does not take delivery. The key customer is a strategic military base that has 5 years left in its third 10-year contract.
The break-even point for oil producers in California is between $30 and $40 a barrel. With prices currently above $90 a barrel, this creates a profitable environment for drilling. However, the offer is limited by two factors, as stated by Grier:
producers have focused on using free cash flow to pay down debt and invest in energy transition programs, instead of increasing drilling until recently. . . [and the] new well authorization process in California. . . was regulatory locked up for much of the year.
Yet CORR was able to impose a 10% rate increase last summer.
Going forward, CORR has a three-pronged growth strategy:
Expansion into existing pipeline footprint. CORR has a competitive advantage, due to the high barriers to entry in most fields, and its own expertise in navigating the regulatory environment.
Acquisitions to add much-needed scale and diversification. Here, CORR believes that their REIT structure gives them a competitive advantage over other intermediaries.
Diversification in the storage and transport of renewable energies. The company's infrastructure includes 2,000 miles of pipeline that could be used for carbon sequestration, renewable diesel, and more.
The good news for the third quarter of 2021 is that EBITDA rose from $10.0 million in the second quarter to $13.3 million, and CAD (cash available for distribution) jumped to $3.2 million. dollars, against one loss $1.0 million in Q3 2020. Capital expenditures fell to 13.5%.
Still, the company's full-year EBITDA guidance is only $42-44 million, down significantly from the $51 million the company forecast at the start of 2021. investment for the year should be $9-10 million, for an annual rate of at least 20.4% (based on a maximum EBITDA forecast and a minimum investment forecast) . Either way, it's terribly high.
After 5 consecutive quarters of decline, average daily California pipeline volume finally stabilized and increased slightly to 192,000 barrels, but remained below pre-COVID levels.
Given that 2020 was a really terrible year for CORR, the year-over-year comparisons look very good, with an almost 10x increase in EBITDA.
Similarly, CORR posted nearly $3.2 million in cash available for distribution, compared to a loss of $3.8 million a year ago. However, even that small win was marred by a one-time $2 million win that will be written off in future earnings.
Another positive development has been the internalization of the management structure to owner members, most of whom are also company executives.
This small company is not without ambition. Grier noted that:
The addressable market is very large with hundreds of billions of dollars of transport and storage infrastructure in the energy market. Majors and others are looking to sell non-core assets as ESG pressure mounts on them . . . However, buyers are limited. . . over a dozen deals in our deal pipeline.
However, when pressed in the Q-and-A by the only analyst who showed up for the call, CEO David Schulte said:
I expect that we will close one to two acquisitions per year. So this year is getting a little long in the tooth, but look for at least one in 2022.
Compared to other midstream companies, according to Seeking Alpha contributor Trapping Value in its November post,
CORR is the smallest of them all and has the worst track record.
CORR's main selling point for investors is that it is a REIT. That should tell you something.
Growth indicators
Here are the really dismal 3-year growth numbers:
| | | | | | |
| --- | --- | --- | --- | --- | --- |
| Metric | 2018 | 2019 | 2020 | 2021 * | CAGR |
| Turnover (millions) | $89.2 | $85.9 | $11.3 | $49.4 | — |
| Revenue increase % | — | (-3.7) | (-86.8) | 337.2 | (-17.9) |
| TCFO (millions) | $48.6 | $61.8 | $10.4 | $16.3 | — |
| TCFO Growth | — | 27.2 | (-83.2) | 56.7 | (-30.5) |
| Market capitalization (billions) | $0.39 | $0.60 | $0.09 | $0.04 | — |
| Market Cap Growth % | — | 53.8 | (-85.0) | (-55.6) | (-53.2) |
* Estimate, based on results through Q3 2021.
Source: TD Ameritrade, CompaniesMarketCap.com and author's calculations
As for the stock price, a picture is worth 1000 words. This chart, courtesy of Trapping Value, shows CORR's performance over the past 3 years, compared to ALPS Alerian MLP ETF (AMLP):
CORR is showing signs of stabilizing revenue and cash flow, but at a much lower level than in 2019.
Balance sheet metrics
CorEnergy closed the third quarter of 2021 with liquidity of approximately $37 million, including $15 million in cash and a $22 million revolving line of credit. The track record is a bit ragged, across all measures.
Its debt/EBITDA is somewhat difficult to pin down. Here's how Trapping Value explains the situation, given the company's $223 million in debt:
At $43 million EBITDA, that climbs to around 5.0X (adjusted for small mandatory capital repayments). Even this 5.0X ignores preferred stocks ahead of common stocks. If we add the two, we get around 9.0X leverage.
| | | | | |
| --- | --- | --- | --- | --- |
| Company | Liquid. Report | Rate of endettement | Debt/EBITDA | Bond rating |
| CORR | 1.39 | 51% | 9.0 | — |
Dividend Indicators
At least the CORR stock yield is tasty, at 5.83%. CORR does not return FFO, so a payout ratio cannot be calculated, and Seeking Alpha Premium does not risk a dividend safety rating.
| | | | | | |
| --- | --- | --- | --- | --- | --- |
| Company | Div. Yield | Div. Growth | Div. Goal | Payment | Security |
| CORR | 5.83% | (-59.45)% | — | — | — |
Source: Hoya Capital Income Builder, TD Ameritrade and author's calculations
The dividend score projects the yield 3 years ahead, assuming the dividend growth rate remains unchanged. In the case of this company, it would probably be misleading, so I chose to omit it.
Evaluation Metrics
Since the company is not currently reporting FFO, the more traditional price/earnings measure is more appropriate, but since earnings per share came in at (-$1.55), the P/E is not appropriate. not defined.
Investor Conclusion
Seeking Alpha Quant ratings do not cover this company, while Seeking Alpha authors and Wall Street analysts rate the company as Hold, along with Zacks and DA Davidson. The Street, which generally likes REITs, rates this holding as a sell, and TipRanks rates it as an underperformer.
Trapping Value, which has extensively covered this business, says:
"We think the risk is high and there are much better prospects elsewhere. »
Although it shows signs of stabilization and ambitions for growth, there is nothing about this small company that tempts me to buy back just yet. This has been my worst investment and it is in much worse condition than it was when I bought it 3 years ago. I'm glad I got out when I did. That said, if you own stocks, in my opinion, you are not likely to lose much more. Expect volatility and remember that due to its small size, it could be crushed by unexpected shocks. I rate the company at Hold and Don't Buy Right Now.
CorEnergy announces its fourth quarter results on March 14.